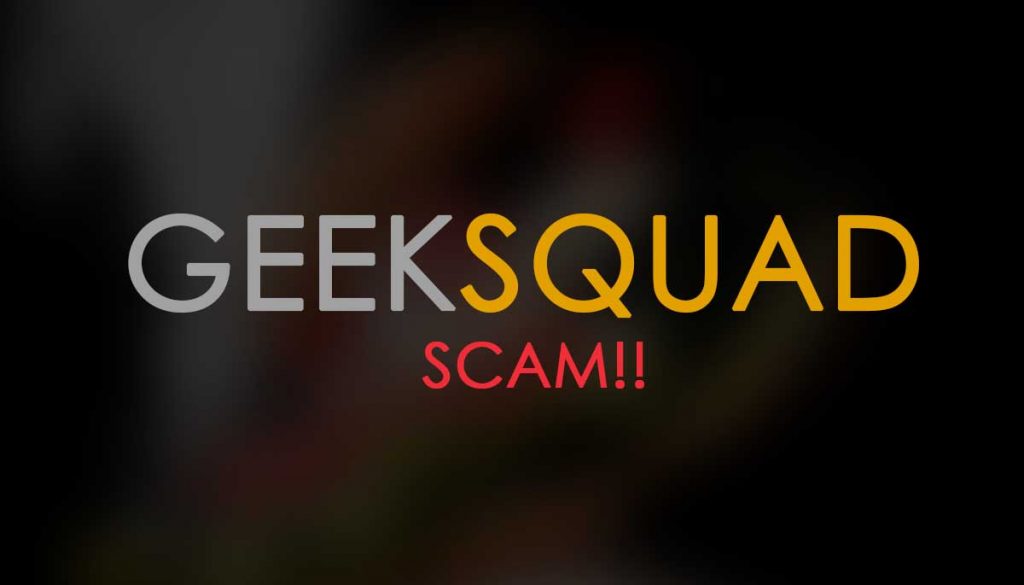 Did you receive Geek squad scam email titled "Thank you for your order" which shows invoice no, tenure, quantity, order status and amount? Are you getting email from Geek squad scam regarding the automatic renewal on your email address? Here's what to do and what you shouldn't!
In an increasingly digitized world, where technology and convenience are at the forefront, it's vital to remain vigilant against potential scams that aim to exploit our reliance on digital services.
One such scam that has garnered attention in recent times is the Geek Squad scam.
This deceptive scheme preys on individuals' trust in tech support services and can have dire consequences for those who fall victim. In this comprehensive article, we will let you know about what is Geek Squad scam, its intricacies, and how you can safeguard yourself from its clutches.
What is the Geek Squad Scam?
The Geek Squad scam is an elaborate hoax that was devised by cybercriminals as an attempt to get illegal access to victims' personal information, financial data, and even control of victims' electronic equipment.
They will often impersonate employees of Geek Squad, which is a real company that provides computer support, and send out phishing emails, texts, or notifications. The recipients of these fake communications are typically informed about said problems affecting their equipment, software, or subscriptions, and they are urged to take immediate action in order to prevent additional damage.
Geek Squad Sample Email
Geek
Squad
Invoice No: #GKD6430534730
 Date: 08-05-2023
Hello, Techy
Thank you for selecting GeekSquad
We have received the renewal request of GeekSquad Assistance as you have set up auto-renew option.
You do not need to take any action, we just wanted to let you know.
Order Summary:
Description : Total AV Ultimate Antivirus
Tenure : 24 Months
Quantity : 1 (for 2 user)
Device : Mac & Windows
Order status : Delivered
amount : $369.75
Payment mode: Auto-Debit
---
Your current plan renewal is done for 2 years on August 03, 2023. The amount will take 24 hours to appear in your bank statements.
Call us if you have any questions about the product.
+6l 8 72OO 6585
Why Am I Getting Emails from Geek Squad?
Receiving an email from Geek Squad doesn't necessarily mean it's a scam, as the legitimate Geek Squad service does correspond with its customers through email. However, scammers exploit this by sending out phishing emails that mimic the appearance of genuine Geek Squad communications. These fraudulent emails may claim that your subscription is expiring, that your device has been compromised, or that urgent action is required to prevent data loss.
How Can I Avoid Geek Squad Scam Emails?
Protecting yourself from the Geek Squad scam and similar phishing attempts requires vigilance and awareness. Here are some essential tips to avoid falling victim to these scams:
Verify the Sender: Check the geek squad email address it should start with no-reply@gexxxxad.com or customer support name. Legitimate Geek Squad emails will come from official domains, while scammers often use misspelled or deceptive addresses.
Avoid Clicking Links: Refrain from clicking on any links or downloading attachments from suspicious emails. Instead, visit the official Geek Squad website directly or contact their customer support.
Inspect the Content: Pay attention to grammar errors, odd phrasing, or generic greetings in the email. Legitimate communications are usually well-written and personalized.
Don't Share Personal Information: Legitimate organizations like Geek Squad will never ask for sensitive information via email. Never share passwords, Social Security numbers, or financial details through email.
Use Security Software: Equip your devices with reputable antivirus and antimalware software to help detect and prevent phishing attempts.
Should I Be Worried About the Geek Squad Scam?
While the Geek Squad scam is a serious threat, staying informed and cautious can significantly reduce your risk.
By adopting good cybersecurity practices and recognizing the signs of a scam, you can protect yourself and your digital assets from falling into the wrong hands.
Geek Squad Scam – FAQs
How Do I Cancel My Geek Squad Subscription?
To cancel your legitimate Geek Squad subscription, visit their official website or contact their customer support directly. Avoid clicking on any links provided in unsolicited emails.
What Happens When You Open Spam Email?
Opening spam or phishing emails can lead to malware installation, data theft, and compromise of your devices and accounts. Never open attachments or click links from unknown or suspicious sources.
Who Owns Geek Squad?
Geek Squad is a subsidiary of Best Buy, an American multinational consumer electronics retailer.
How do i report a fake geek squad email?
If you receive a scam email, you can report it to the Federal Trade Commission (FTC) at ftc.gov/complaint. Additionally, you can forward the email to the Anti-Phishing Working Group at reportphishing@apwg.org.
Is Geek Squad a Scam?
No, Geek Squad itself is a legitimate tech support service provided by Best Buy. However, scammers may impersonate Geek Squad to carry out their fraudulent activities.
How to Recognize a Fake Geek Squad Renewal Scam?
Fake Geek Squad renewal emails often contain grammatical errors, demand urgent action, and provide links to suspicious websites. Legitimate renewal emails from Geek Squad are well-written, personalized, and include accurate contact information.
Conclusion
The Geek Squad scam serves as a reminder that vigilance is key in the digital age.
By staying informed, practicing cautious online behavior, and recognizing the red flags of scams, you can effectively shield yourself from falling victim to such fraudulent schemes. Always remember that genuine tech support services will never pressure you into immediate action or request sensitive information through email.
Your digital security is in your hands, and with the right knowledge, you can confidently navigate the digital landscape unscathed.