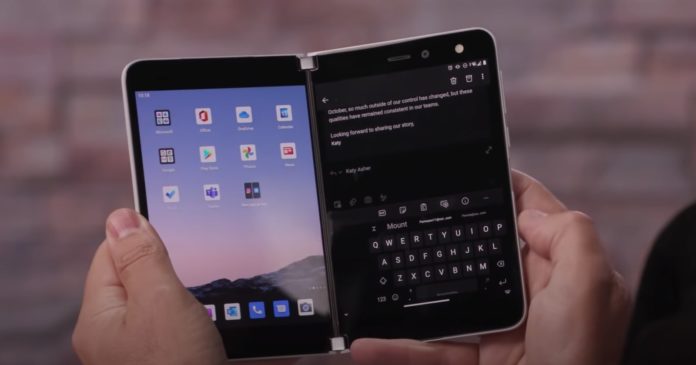 Microsoft has quietly announced a huge price cut for its first foldable Android device – the Surface Duo. The Surface Duo, which is a book-like device with two displays and one hinge, has been available for purchase for around two months.
Today, Microsoft and Best Buy are offering multiple discounts on the purchase of Surface Duo.
Surface Duo was unveiled in August for $1,399 price tag, which is quite high given the mid-range specifications. In a trend that happens before the holiday season, the Microsoft Store today discounted the Surface Duo to $1,199.
After the $200 discount, Surface Duo now starts at $1,199 from $1,399 for 128GB storage and 6GB of RAM variant. $1,399 now gets you a 256GB variant of the dual-screen phone.
It's worth noting that this deal only applies to the unlocked Surface Duo purchased from the Microsoft Store in the United States. The offer is already live and lasting until October 29, 2020.
Earlier today, Best Buy has also launched a discount of $300 and this is the biggest deal from any retailer. Other retailers and carriers have not offered lower prices yet. If you buy the Surface Duo from Best Buy, you can get the phone for just $1,099.
Microsoft says you'll get a dual-screen device that runs Android and Microsoft suite of software. Surface Duo also comes with two 5.6-inch displays that will become one large 8.1-inch PixelSense display when you unfold the hardware.
Unlike other foldable phones, Surface Duo comes with a 360-degree hinge and it is believed to be more durable. The hinge and two displays allow you to use the Surface Duo in multiple form factors, including tent mode, phone, tablet, and notebook mode.
Surface Duo also comes pre-installed with Microsoft and Google apps. Microsoft 365 is included and you will get access to Office apps, Teams, OneDrive, etc.
The dual-screen hardware would rely on Snapdragon 855, 6GB of RAM, 128GB or 256GB of storage, and you'll also get 3,577mAh battery that is split across two display panels.
If you're interested, you can buy the Surface Duo for $1,199 from the Microsoft Store and $1,099 from Best Buy.