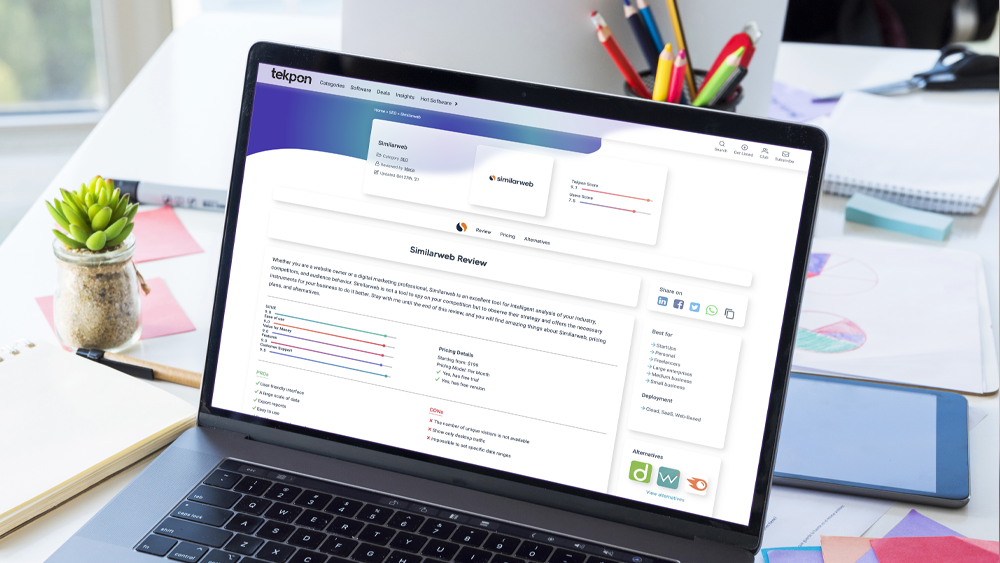 If you run a company, I believe you know the struggle and the hard process of becoming popular. Dreaming vividly about how you would look on the first page of Google Search Results might sound familiar to you. And about how is it possible for your competitors to have so much success. What online strategy are they using? A tool called SimilarWeb can help you with the latter.
As you can tell, it is SEO we will dissect today. Shortly, SEO stands for Search Engine Optimization. This refers to increasing the organic traffic on your web page by improving the quality of the content. The improvement of the content is not a single action but a full process. Also, a good digital marketing tool shall be based on a strong SEO strategy. To enhance website visibility and gain more popularity, we will tell you some strategies and tools to help you.
Best tools to improve your SEO strategy
SimilarWeb
Because I mentioned it above, let's talk about this software. SimilarWeb is a tool you should use in the research process. Before planning an SEO or content marketing strategy, analyze the performance of your website, monitor the traffic and the audience's needs and behavior. This process of extracting data and making reports will give you insights into the current condition of your website. Also, the insights gained from SimilarWeb will lead you to build a solid future strategy. Moreover, you can monitor your competitors, trends, new players in the industry. SEO tools integrated into this software will help optimize your website and rank better.
Ahrefs
Having a content strategy is an essential part of developing a marketing strategy. To start, research keywords and then create a list. Ahrefs is a keyword generator software that gives you ideas of terms and phrases from a lavish database. It also shows you the search volume locally or globally, competition levels, and difficulty scores for the terms on your list. At the same time, this tool can give you suggestions about related terms and related popular questions based on the seed term.
Ubersuggest
Ubersuggest is free software that generates keyword suggestions to improve the content marketing strategy. Of course, getting insights into your competitors' strategies are not excluded benefits from the platform. Furthermore, you will get hints on the topics you should write about based on the content that gets the most attention in your industry regarding social shares and backlinks. Backlink data is an important component for boosting organic ranking and increasing website visibility. Ubersuggest allows you to see what content people in your niche are linking to. This bigger picture will help you to know exactly what sites to ask to link to you.
Internet is the most powerful tool in this digital era. As a business, you should be aware of the internet's potential in promoting your products and services. To gain new prospects and engage the actual ones simultaneously, you should improve your content strategy by writing qualitatively, emphasizing improving the SEO strategy. And do not forget to use tools too.