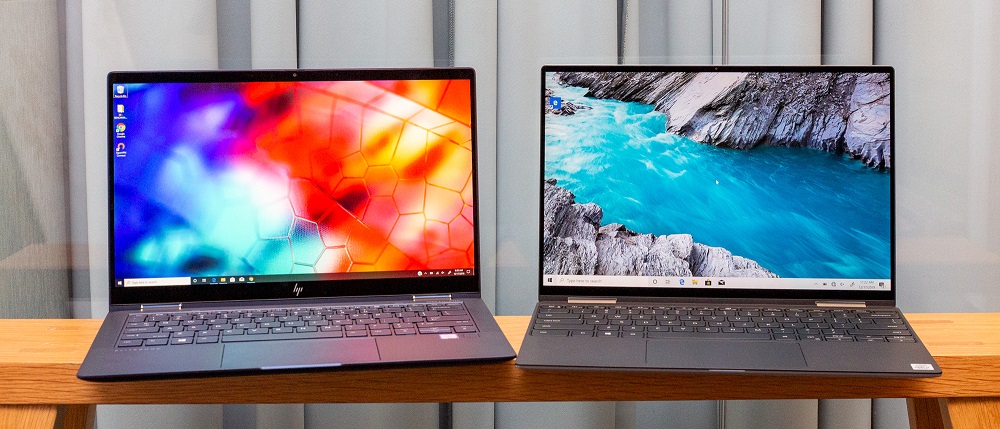 The Lenovo vs HP battle will rage on while both continue to develop their brand. So, which is best at the moment? You are about to purchase a new laptop and have the choice between Lenovo and HP. Which is the better? Let's have a look first at the two companies and their reputation.
Founded in Palo Alto Ca in 1939, Hewlett Packard has a very good reputation for a range of products, including calculators, printers, scanners, laptops, mainframe computers and many other technological devices. Lenovo was founded in Beijing in 1984. Originally known as Legend, Lenovo acquired the PC business of IBM in 2005. Both have an excellent provenance which is reflected in the quality of their products.
When comparing these two laptop brands, it should be kept in mind that each has a number of options to offer. Lenovo PCs can range in price from over $2000 to under $400.  HP laptops can be even more expensive at the top end. Fundamentally, you get what you pay for, and when comparing two brands it can only be done in general terms. How do you compare a $3,000 HP with a $500 Lenovo and vice versa?
HP vs Lenovo – Top of the Pops in Laptops
Lenovo and HP are a step above Samsung and other popular brands in terms of popular laptops. It's never easy to choose between two machines of broadly similar performance although we are about to answer some of your questions and help you make that choice. What is it that you want from a laptop? Here are some options:
Reliability
Available memory
Data storage capacity
Processor speed
Type of display
Ease of use
Business or gaming use
You may have more yourself, but we are using these above to compare Lenovo vs HP laptops. So what's first? Lenovo is an established brand, responsible for around 20% of all PCs shipped worldwide. The company has a wide range of laptops on offer, and this is where a comparison is difficult to make. What're the criteria you use for the comparison? Top of the range? Cheapest option? Popular opinion? Business? Gaming?
Lenovo laptops are generally regarded as offering good design, excellent functionality, and superb display features. They also offer good value for money. HP is also lauded for its design, and specifically for its audio quality. However, it does tend to fall down on display features in comparison to Lenovo. Lenovo tends to offer more value for money when comparing similarly priced models.
Lenovo vs HP: Reliability
As expected with two well-known laptop brands, there is little to choose between them with regard to reliability. Both should be dependable for functionality. Both are just as bad for keyboard character wear – not good for professional use (inset white characters would be better than foil stamped). Like all laptops, you may find some issues with your purchase.
Because HP laptops are excellent for gaming and other entertainment formats, and Lenovo seems best for business, it is easy to make false comparisons. That said, the HP runs well – it is extremely reliable in the very demanding entertainment genre. It is, therefore, equally reliable for business use.
What's the Difference?
In general terms, there is not a lot between Lenovo and HP laptops. As with many brands of laptop, the range of models offered by each company covers just about anything you would want of a laptop. However, most people find that each brand can handle both of these types of use more than adequately. It's only when you get above $1000 that you will see any significant difference between them.
The model you choose is extremely important. In order to provide a better comparison in the Lenovo vs. HP battle, here are two similarly priced models of each brand directly compared against each other.
Lenovo vs HP Laptops: Head to Head to Head Comparison
| | | | | |
| --- | --- | --- | --- | --- |
| Specs | Lenovo 320 | HP PavilionX360 | Lenovo Thinkpad T570 15.6 | |
| Screen Size* | 15.6 inches | 15.6 inches | 15.6 inches | 17.3 inches |
| Processor | 2.5 GHz Intel Core i5 | 2.3 GHz i5 6200-U | 2.4 GHz Intel Core i5 | 2.7-3.5 GHz Intel i7 |
| RAM | 8 GB SDRAM DDR4 | 8 GB DDR3 RAM | 4GB DDR4 SDRAM | 12 GB RAM |
| Hard Drive | 1 TB HDD 5400 rpm | 1 TB Hard Drive | 500 GB HDD | 1 TB 7200 RPM |
| OS | Windows 10 | Windows 10 | WWindows10 | Windows 10 |
| Graphics | Intel® HD Graphics 620 | integrated_graphics | Intel® HD Graphics 620 | NVIDIA GeForce 940MX |
| Touchscreen | Yes | Yes | No | Yes |
| USB 2.0 | 2 | 1 | 0 | 0 |
| USB 3.0 | 1 | 2 | 3 | 3 |
| HDMI | 1 | 1 | 1 | 1 |
| Weight | 4.8 lb | 5.1 lb | 4.5 lb | 3.4 lb |
| Dimensions | 15 x 11 x 1 inches | 15 x 9.8 x 0.9 inches | 14.4 x 10 x 0.8 inches | 16.3 x 11 x 1.17 inches |
| Price | $499.00 | $479.00 | $1079 | $1044 |
 Analysis of Data on Lenovo and HP Laptops
As already noted, Lenovo laptops tend to have better display options. They offer a high level of personalization and multi-screen facility. Both Lenovo and HP offer a number of options to render the screen easier to read for those whose sight is limited. Ease of access includes the ability to optimize the screen magnification, increase contrast and change keyboard options.
Gaming or Business?
Those whose priorities are gaming and entertainment tend to prefer the HP, while the Lenovo laptops are generally better for business use. Lenovo laptops can handle large business applications with ease: business suites such as Microsoft Office and QuickBooks 2017. The Lenovo ThinkPad's are ideal and very reliable for this type of business application, particularly the ThinkPad P50 at over $2,000.
HP? Not so much. . . but they can. For a lower-cost solution, the HP Stream 11 at around $400 is likely the best for QuickBooks, but its 32GB storage may not leave much room for anything else.
Business:
Lenovo is more convenient for professionals. Lenovo has recognized its target audience very early and since then they have designed laptops that are more business-oriented. Features like extra portability, increased, battery life, presentation help are major ones to note down. HP lags in these areas and is much behind than Lenovo.
Over the years, Lenovo has successfully worked on battery life. They have managed to get a very good score at laptop battery life tests. Recently the Lenovo ThinkPad X60s was tested and it has a battery life of 8 hours and 16 minutes, the best ever till date.
Portability is one major thing that is always found in the prospectus of the laptop they manufacture and they sure must be really proud of it. Lenovo is always been praised for lightweight laptops. It really helps when you carry them from one place to another, from one meeting to other. Although not specifically designed for gaming it is quite adequate.
Movies and Music:
We chose not to review the HP Omen 17 here due to the range in prices of its variants. However, even the mid-range HP Omen 17-w102na at around $1500 offers excellent game-playing and movie functionality. Its 17.3-inch display at 1920×1080 resolution combines with Bang & Olufsen sound for fantastic music, movie downloads, videos, and games.
All your entertainment sounds and looks lifelike – as if you were right there in the venue! All that plus storage space for 250,000 songs and 440 hours of standard DVD video (120 hours of HD video)! The 128 Gb solid state drive offers the speed of action you want in a top-quality entertainment-grade laptop.
Laptop Reliability and Service:
 It is very difficult to beat Apple for support. However, Lenovo gets pretty close. Were we purchasing a laptop based on support alone, it would be a) Apple then b) Acer and then c) Lenovo. HP would appear around #5 with 225% times the waiting time on the phone than Lenovo.
Also, Lenovo offers 24/7 support. HP offer support on weekdays from 8 am – 12 am and at weekends from 9m to 9 pm. Both brands are reliable, although it is good to know that if anything goes wrong with your Lenovo, you can get support all day and night, seven days a week.
Lenovo vs HP battle: Bottom Line
Both these brands, and the four models we chose for out test, are excellent. Differences between them are generally small, although there is a significant difference between models in the two price levels. You cannot really compare a $500 laptop with a $1,000 alternative. However, within each price range, it was evident that the Lenovo was the business model and the HP better in most ways for entertainment and games use.
Lenovo has the edge because of its focus on helpful business features. HP is not quite up to speed with Lenovo on the business end but it comes close. You can still get all your work done easily and efficiently, but it may use a good bit of battery power if you are away from a power source – and your laptop will likely be a bit heftier to lug around.
Lenovo for Business
If you are looking for a business laptop for your own use or for employees, then Lenovo offers you perfectly adequate quality at a lower price. QuickBooks operates well on Lenovo machines. The Lenovo ThinkPad P50 Mobile Workstation is ideal for QuickBooks and other accountancy software packages. However, we are talking $1500 to over $2000 here. OK!
HP for Entertainment
Both are great laptops and you cannot go wrong whichever you buy. However, if you want a machine to play games with or watch movies, then HP tends to so that better than Lenovo. It's difficult to beat the HP Omen for playing games. However, at around $1,000 to around $2,000 what more should expect than one of the best?
Overall
Overall, HP generally has the edge over Lenovo laptops. It has a long history and understands what various market sectors and types of business requirements. HP machines are reliable and great for most types of entertainment applications. If you intend using your laptop for business use, then Lenovo has the pedigree. So, Lenovo vs HP Think about what you are using it for and then answer the question yourself.