The best idle games for Android and iOS may not always be every gamer's favorite! The reason is simple too. When most people think about the best Android games or iOS games for that matter, they tend to imagine multiple actions, controls, and everything. Idle games also known as incremental games and idle clickers – don't adhere to this concept.
Idle Clickers, as the name says, are often about tapping on the screen, to do certain actions. Quite amazingly, these games don't bore you much. One reason is that their difficulty would increase as you move upwards the levels. At times, some levels are time-bound too.
In this article, however, we have created a list of the 15 best idle games that are incredibly addictive. You've been warned. Apart from being some decent time-wasters, some of these can get you addicted to the art of clicking.
Top 15 Idle Clicker Games for iOS and Android
1. Evolution: Heroes of Utopia by My.com B.V.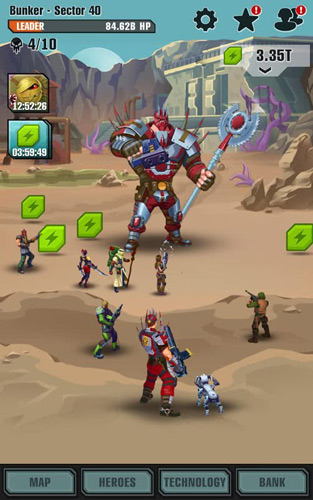 Let's start this article with a wonderful RPG idle game. You don't need hours of training or back-story to get started with this game. All you have to do is to tap on the screen, to destroy the enemy on the other side. It has a lot of weapons, companions and even a commander for planning strategy. But, as the player, you will have to keep tapping on the screen to fire against the enemy. In addition, there is a great storyline and a greater set of graphics that you will love. Definitely one of the best incremental games.
Rating: 4.6
Price: Free
Developer: My.com B.V.
2. AdVenture Capitalist by Kongregate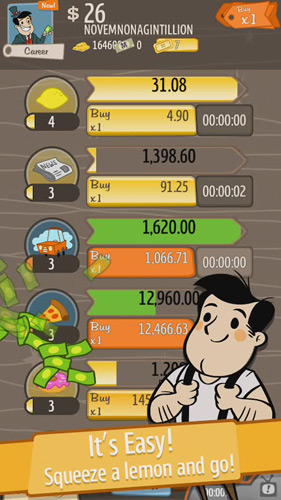 AdVenture Capitalist is another one of the best idle clicker games worth getting addicted to. In this game, you have to keep clicking to gain more money. It's also a simulation game because you are becoming a capitalist in the virtual world and getting hell lots of money. You will start with a lemonade stand, but you can expand to things like newspaper delivery, pizza delivery, donut shop, etc., each offering better revenue. If you get tired of tapping on the screen, you can even hire a manager. It's pretty comical and interesting, you guys.
Rating: 4.6.
Price: Free.
Developer: Kongregate
3. Tap 'n' Build by Risto Prins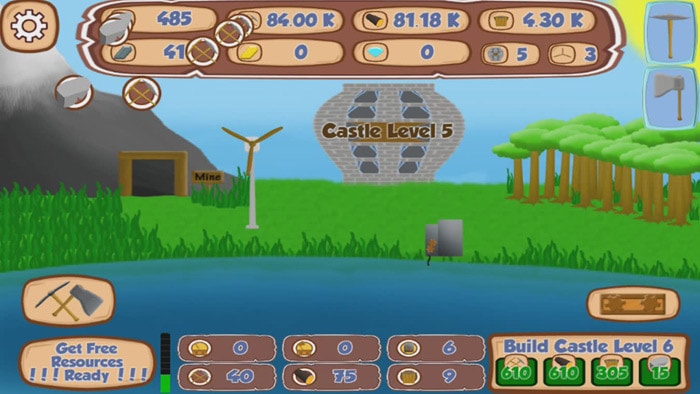 Yet another idle clicker game for all types of Android and iOS devices, Tap 'n' Build is about building stuff. You have to keep clicking on certain things to get the best results. You can get gold and diamond from the mines, also when you are upgrading the machinery and technology. We would call this a click & craft game because it's all about building new things in the way of your progress. The graphics section is also unique, even though it's in 2D. Altogether, Tap 'n' Build offers a new experience of gaming.
Rating: 4.4
Price: Free
Developer: Risto Prins
4. Egg, Inc. by Auxbrain Inc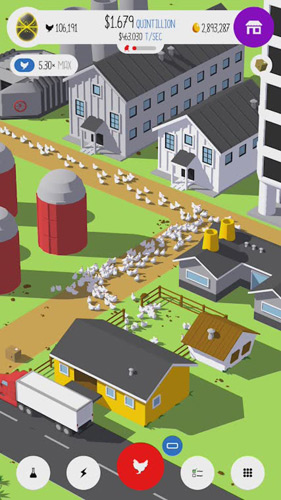 Egg, Inc. would be our recommendation in the list of best idle games if you can tap using all your fingers! It's a game where you run an egg factory, which can potentially earn millions. You will have to hatch chickens and build more houses that your progress multiplies. You will also have to take care of other things such as transportation and the health quality of the eggs. As you move forward, you can unlock different types of healthy eggs, which will increase the total value. It's a great time-killer for sure.
Rating: 4.7
Price: Free
Developer: Auxbrain Inc
5. Tap Titans 2 by Game Hive Corporation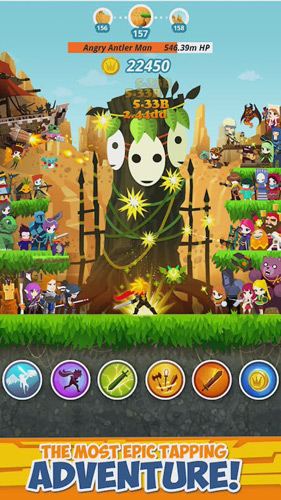 With more than 5 million downloads, Tap Titans 2 is surely one of the best idle games Android users can find. It's also one of the Editor's Choice games in the Play Store. Compared to the other games we've listed above, this one is graphics-rich and has an amazing storyline. Just like Evolution: Heroes of Utopia, Tap Titans 2 is about tapping on the screen and killing the enemies. Just because the graphics are great does not mean that this game has a proper strategy or tactical requirements.
Rating: 4.8
Price: Free
Developer: Game Hive Corporation
6. Cow Evolution by Tapps Games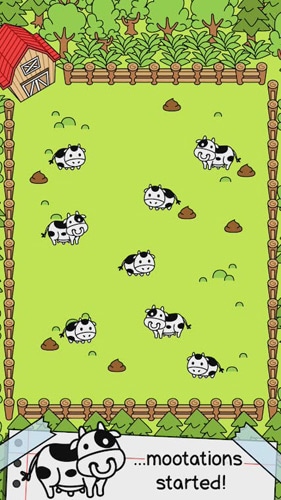 If you prefer growing cows to grow chickens, you can give Cow Evolution a try! Despite being a casual and idle game, Cow Evolution has an interesting method to work. For instance, when you have two cows of the same size, you can combine them and create a new cow. Of course, there are more ways to earn coins in a game, such as the Fusion bar and the coin collection part. It's a wonderful clicker game that can't bore you a bit.
Rating: 4.6
Price: Free
Developer: Tapps Games
7. Tap Quest: Gate Keeper by IDLE Idea Factory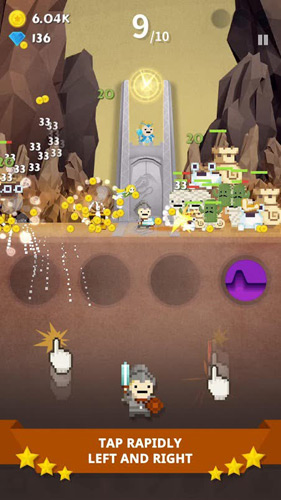 Tap Quest: Gate Keeper wants you to keep the gate safe from the aliens and the dark forces. Of course, there are some skills and additional options. However, the core of Tap Quest: Gate Keeper is about tapping on the left and right portions of the screen and fighting off the attackers. If the tower in the middle is broken, the bad days will begin. The storyline and the graphics of this game are just up to the mark and go back to a retro-style design. As you move forward, you can upgrade your skills and characters.
Rating: 4.1
Price: Free
Developer: IDLE Idea Factory
8. Bit City by NimbleBit LLC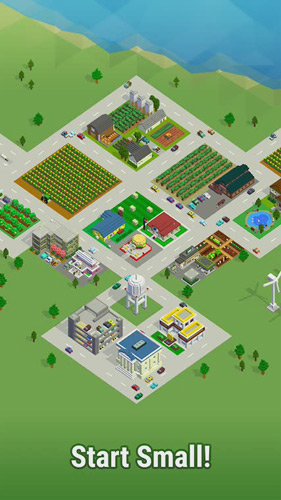 Despite being in the Beta stage, Bit City is a wonderful idle game for those who love simulation adventures. As you can guess from the name, Bit City is all about creating your own city. You can create different buildings and institutions, which can also be used for collecting money. Also, since you are managing the city, you can increase the taxes and fees. In addition, in the course of time, you can unlock new levels and elements. For instance, if you want more cars on the street, you can reduce the fees.
Rating: 4.2.
Price: Free.
Developer: NimbleBit LLC
9. Doomsday Clicker by PIKPOK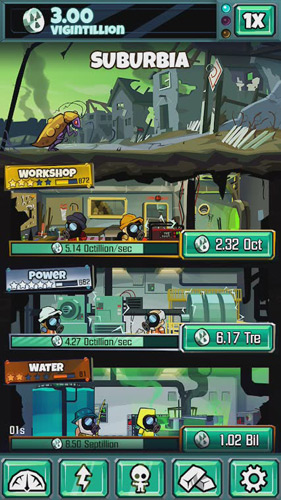 It's another idle game where you can click and create an unlimited amount of resources indeed, incremental! Before you start all that, you have to create a doomsday in the earth; then, you start selling all these things to the mortal human beings. Despite being an idle clicker, Doomsday Clicker has many surprises to offer. It also has some special offers and deals that you can check out. You earn in millions and billions as you conquer the earth.
Rating: 4.2.
Price: Free.
Developer: PIKPOK
10. Tap Tycoon by Game Hive Corporation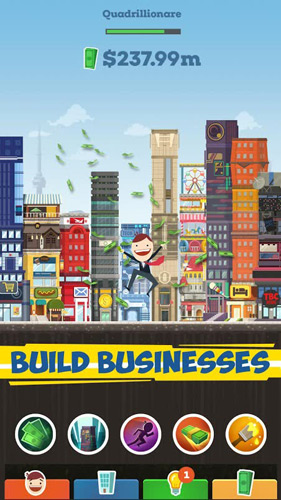 Tap Tycoon comes from the same developers behind Tap Titans 2, which we covered earlier. This idle clicker is another money-making game that lets you create and manage businesses, to build the business empires you always wanted. To start, you can get some money from the thin air and invest all of them in the business of your choice. So, you can either keep pressing on the screen or buy some businesses and earn money using them. It's a really great game that can get you addicted in no time.
Rating: 4.7.
Price: Free.
Developer: Game Hive Corporation
11. Clicker Heroes by Playsaurus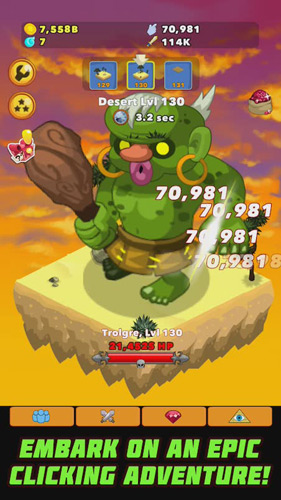 Clicker Heroes is another RPG-based idle clicker game that you can try. Just like almost every game on the list, it wants you to keep clicking on the screen, in order to defeat the enemy on the other side. In case you did not know, Clicker Heroes is already popular on Steam and PC. There are more than 1000 zones in the game, thus making the experience unique every time. You also have an option to join other clans and get multiplayer gaming experience.
Rating: 4.5.
Price: Free.
Developer: Playsaurus
12. Bitcoin Billionaire by Noodlecake Studios Inc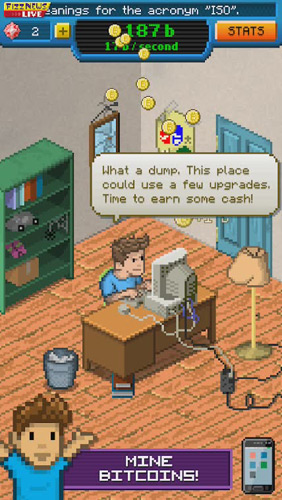 One of the top-rated idle clickers in the domain, Bitcoin Billionaire is also a fortune-making idle game. Instead of cash, however, you are dealing with Bitcoin, the next best thing in the tech world. Because the entire game is based on Bitcoins, you will have a few more things to do. For instance, you can keep tapping on the computer to mine Bitcoins, which is lacking almost all the realism. However, thanks to the retro graphics as well as the clicker control, it's a wonderful experience too.
Rating: 4.5.
Price: Free.
Developer: Noodlecake Studios Inc
13. Hooked Inc: Fisher Tycoon by  A Creative Endeavor AB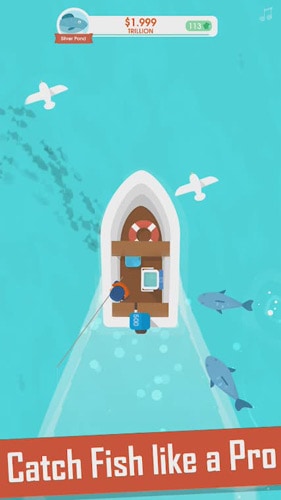 Playing Hooked Inc: Fisher Tycoon makes you a fisherman/fisherwoman who clicks on the screen to catch as many fishes as possible. This is one of the best clicker games because it simulates things very well. It's quite a bit different from the typical clicker because you're swiping on the screen. As new fishes appear, you will be able to swipe across the screen and catch them. Of course, as an incremental game, it's perfect for the whole structure. If you are someone who loves casual Android games, you can give it a try.
Rating: 4.7.
Price: Free.
Developer: A Creative Endeavor AB
14. AdVenture Communist by Kongregate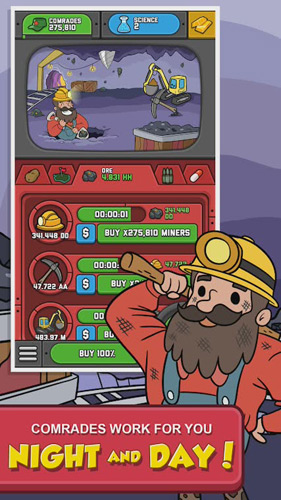 In case you didn't guess already, AdVenture Communist comes from the same people who built AdVenture Capitalist. However, this idle clicker may not be as easy as the capitalist regime. Because, here, you will have to grow certain things such as vegetables and even some scientific experiences so that you can improve the nation. Of course, just like the other game, AdVenture Communist is also filled with political jokes and fast-paced gameplay. You should give it a try.
Rating: 4.4.
Price: Free.
Developer: Kongregate
15. World Zombie Contest by Mobirix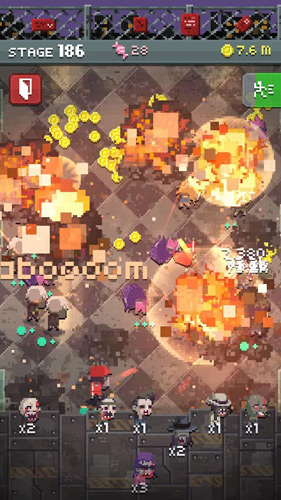 If you really like zombie games, you should check out World Zombie Contest, which is yet another popular idle clicker in the market. As opposed to the typical ones, however, World Zombie Contest wants to create new zombies by merging the existing ones. And, you are actually going to defeat other monsters using zombies, which sounds great, right? So, if you like a different kind of storytelling and fast-paced clicker game, you should give World Zombie Contest a try.
Rating: 4.6.
Price: Free.
Developer: Mobirix
Wrapping Up
Well, these are the best idle games for Android and iOS that we could find. On a personal note, trying all these games and writing the article was tough for me. I was so distracted that I spent hours playing some of the games I have covered above. So, I'm sure that, even if you are a hardcore fan of FPS games or Racing games, you will find at least some of these games really addictive. By the way, if you think you have some of the other best idle clicker games, do let us know through your comments.