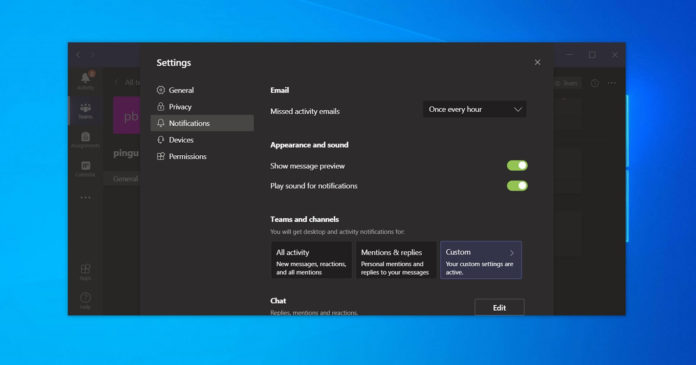 From a new text message or reaction to your posts, the Microsoft Teams toast notifications never stop on Windows 10. Today, Microsoft is rolling out a new feature that could be extremely useful if you don't want to be bothered by a barrage of message previews that interrupt whatever you're doing.
Microsoft Teams has always allowed users to control which notifications you receive, but it doesn't allow you to change the appearance of the notifications and how you receive them.
After today's update, you can now use Microsoft Teams' new notifications setting to turn off message previews completely. The ability to turn off message previews in toast notification is rolling out to Microsoft Teams app for Windows 10.
If you've already updated your Teams client, you can follow these steps to turn off the message previews:
Click on your profile icon.
Select Settings.
Click on 'Notifications'.
Under 'Appearance and sound', turn off 'Show message preview'.

Close the window.
It's worth noting that the ability to turn off the previews has been one of the most requested features and it is also supposed to address the privacy concerns of the users.
When you turn message previews, you're also disabling the pop-ups that appear when you're sharing your screen during Teams meetings. With this new feature, you can now hide all previews.
According to the UserVoice community forum, Microsoft has been working on this feature for about two years now and it's finally rolling it out to those using the desktop version of Teams.
Next month, Microsoft says it will also enable support for native notifications in Teams for Windows 10 and macOS. This will allow you to manage your notifications for almost everything using Windows 10 or macOS built-in settings. Or you can also use it to pause notifications completely so that you can buckle down and focus.