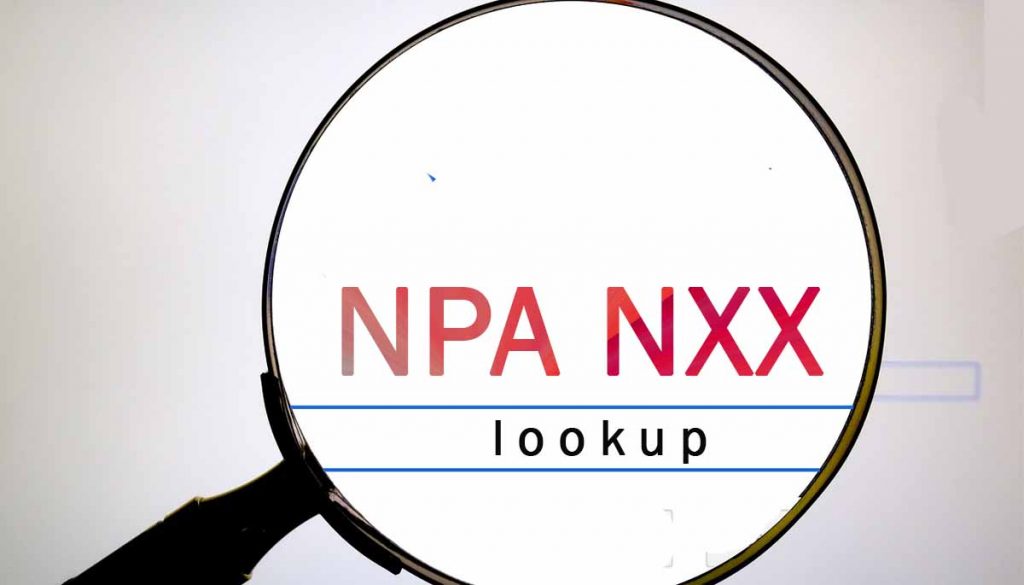 Npa nxx code is a mobile number system that used in north America for area codes and their respective exchange. These are responsible to create a 10 digit mobile number which we dial on phone to call a person. Hence if you would like to know which code is for which area and what is the exchange code then Npa nxx lookup tool will help to find everything in better way!
We already have covered about the Npa nxx code in a separate article, so if you haven't read it yet then I would recommend to read it so you can get an ideas how this Npa nxx works in real time in the telecommunication network all over the world.
Here's quick recap about the NPA and NXX, The Npa is the area code, that 3-digit prefix that identifies the general geographic region. The Nxx refers to the next three digits – the central office code – that narrows the location further within the area code. Together, the 6-digit Npa Nxx provides a more precise indication of where a phone number originates from without needing the full 10-digit number.
Why Use an Npa Nxx Lookup Tool?
Looking up the Npa Nxx for a phone number can provide insights like:
General geographic area for a number, like city or region.
Carrier that owns a block of number.
Type of customer assigned the number, like business vs. residential.
Early warnings of robocalls and spam calls from suspect area codes.
This information helps telecom providers monitor their networks, businesses target local audiences, and individuals identify unknown callers. The key is finding the right lookup tool for your specific needs.
Factors to Consider in an Npa Nxx Lookup Tool
Database Accuracy and Updating
The accuracy and freshness of the Npa Nxx data is critical. The database should contain comprehensive listings of all valid area codes and prefixes assigned across North America. It's important to research how often the provider updates their data – ideally it should be updated daily as new codes are assigned and old ones retired. An inaccurate or outdated database will return incorrect results.
Look for providers who source directly from North American Numbering Plan Administration (NANPA) and other authoritative sources.
Ease of Searching
A good Npa Nxx lookup tool should allow searching by different parameters beyond just the area code and prefix.
Look for the ability to search by ZIP code, street address, city, state, carrier, and other filters. This allows you to lookup local Npa Nxx codes for a specific region or search numbers belonging to a certain phone company.
Advanced tools may even attempt lookup based on partial phone numbers. The more ways you can search and filter, the better.
Data Filters
Related to search flexibility, the ability to filter results is key for honing in on the exact data you need.
Look for providers that allow you to filter by criteria like carrier, customer type (business, residential, government), connection status (assigned, available, ported, etc), and so on. For example, filtering to only show Npa Nxx codes currently owned by Verizon in the state of California.
More filters and segmentation gives greater insights.
Reporting and Analysis
The presentation of data matters. The Npa Nxx search results should be displayed in a clear, organized manner.
Better tools will allow drilling down into results, like showing all numbers currently assigned for a given code. Also look for providers that allow searching historical data – when was a code first assigned and where has it been ported over time.
Robust reporting and analysis opens up more opportunities for gathering market intelligence.
Integration
Some Npa Nxx lookup tools offer developer APIs to integrate the data into your own applications and systems. This is great for developers building phone/SMS tools, call centers, network monitoring systems, and more. The integration option really expands what you can do with the data.
Pricing
Given the many options out there, price should certainly be a consideration. Look for providers offering affordable paid plans for different usage levels. Also see if there is a free tier available with basic capabilities. Ultimately you get what you pay for, so weigh pricing against the accuracy, features and support offered.
Evaluating an Npa Nxx lookup tool across these criteria will ensure you get the right solution for your specific use cases and requirements. Let me know if you need any clarification or have additional questions!
Top Npa Nxx Lookup Tools
Visit the Npa nxx lookup tools and websites to find more about a 10 digit number. If you are interested to know about a number then here we come up with the  top 5 Npa Nxx lookup tools that we have mentioned below.
1. PrefixBase
This is my top overall recommendation due to its combination of highly accurate data, comprehensive search capabilities, and reasonable pricing. The key advantages of PrefixBase are:
Database updated daily from authoritative sources like NANPA to ensure current, valid info
Lookup by NPA NXX, ZIP code, address, carrier, and other filters
Detailed reporting on search results, like connection status, porting history, assignments
Developer API available for integrating into apps
Pricing starts at $12/month for basic access, volume discounts available
The daily refreshed data, flexible search options, and API access make PrefixBase a great choice for both casual and power users.
2. Npanxxsource.com

As the name says, this tool offers free Npa Nxx lookups, making it ideal for basic users who just need to check area codes and prefixes occasionally. Advantages are:
No cost to use the basic search features
Simple lookup by NPA NXX only
Results show basic details like city, state, carrier
Limits on number of searches allowed per month
The main downside is limited search filters (Access limited to 10 queries in a 24 hour period) and data details compared to paid tools. But for free occasional lookups, it's hard to beat and you can use it via mobile and laptop!
3. NumberBarn NpaNxx Lookup
NumberBarn offers an affordable paid lookup service starting at $9.95/month. Some highlights:
Lookup by NPA NXX, ZIP code and company name filters
Shows limited carrier and location details
Database accuracy could be improved – some outdated results
Only updated every 1-2 months rather than daily
Overall NumberBarn is a decent budget-friendly option, but lacks some accuracy and features of higher-end tools.
4. PhoneNumberValidator API
Unlike the previous tools, this is a developer API focused on integrating Npa Nxx data into apps. Benefits include:
Bulk lookup capabilities and higher request volumes
Custom integration into any application
Various paid plans based on usage needs
Accuracy on par with other paid services
It's the perfect solution for developers wanting to add phone number validation and intelligence into their products.
5. TruthFinder Reverse Phone Lookup
Though not its main focus, TruthFinder does provide basic Npa Nxx lookup capabilities with a paid membership. Useful for:
Consumers wanting to identify unknown callers
Combining number lookups with public records access
Very easy to use with minimal filters and parameters
Cost is bundled into full membership fee
The Npa Nxx search is a nice add-on for TruthFinder's core background check services targeted at individuals.
Hope this expanded overview provides more context on the strengths of each tool and who they may be most suitable for. Let me know if you need any other details!
Final Words

Whether you need to monitor telephone networks, locate customers, identify unknown callers, or integrate phone data into an application, using the right Npa Nxx lookup tool is key.
Evaluate your specific needs and choose the solution that best matches your criteria for accuracy, features, ease of use and budget. The tools we covered are a great place to start your search. With the power of Npa Nxx data at your fingertips, you can gain valuable insights from phone numbers.
So now if you would like to know which number belongs to which region and exchange then below given Npa nxx lookup applications and websites will help and you can find detail information in just 1 single click.
Apart from that if you have something in your mind to make more these Npa naxx lookup systems better then you can do by using the Npa nxx api. You can reveal your idea to a professional developer and your developer will create a super new Npa nxx lookup app or website which will help others to find more about the 10 digit number and their respective area code with exchange code.
That's all about the best Npa Nxx lookup tools for area codes!
Would like to know more and want to share something with us then feel free to leave your comments in the comment section below and don't forget to share it with others!