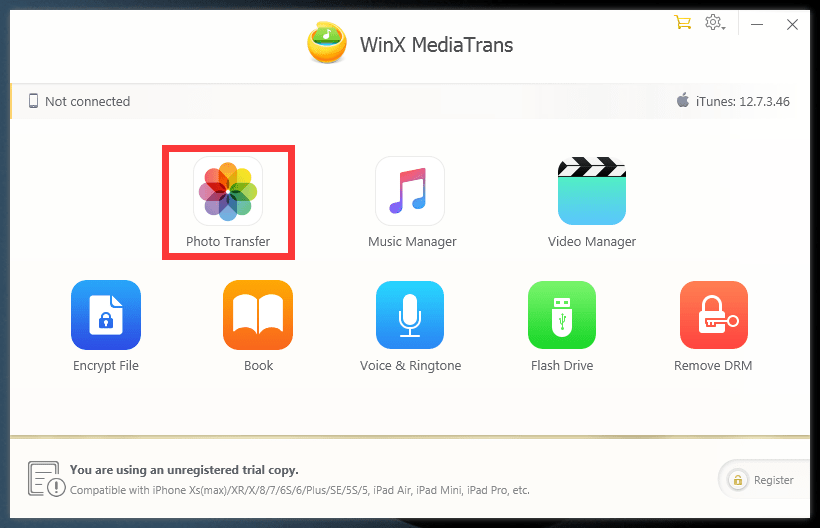 Sometimes iTunes gets failed to transfer files and here we look for iTunes alternative which can do this job quickly. Among many alternatives, WinX MediaTrans claims to be the best alternative to iTunes.
So, let's find out is it true? Does this software fulfil their claims? Checkout our full depth-in analysis of Winx MediaTrans below.
What is WinX MediaTrans?
WinX MediaTrans is a software product and best alternative to iTunes that can be used to transfer files between iOS or Windows devices.  Here are some of the advantages and exclusive features that we get:
It is far easier to use using the user-friendly interface of product.
It can be downloaded for free for your Windows laptop or desktop.
It allows you to transfer your data without any hassle!
Backup and Sync media content between iPhone/iPad and PC extensively or selectively with zero data erased.
You can also optimize the size of files to 50% – That's is pretty Awesome!
So, if you are looking for an option to consider backup your iPhone, transfer pictures, video, and music to other iOS devices or Windows, this software will help.
The best part is that it also has a free iPhone video converter, music converter, iBook converter, and ringtone maker and takes away all of the problems and issues iOS users were facing earlier.
11 Reasons Why WinX MediaTrans is the Best iTunes Alternative?
In market, you will get a lot of iTunes Alternatives, but there are few which you can prefer and among them the WinX MediaTrans is the best one which you can blindly opt as it comes packed with lot of features.
We tested this software for 2 weeks on ipad, iPhone and transferred data between iPhone to iPhone, iPhone to iPad and also did file transfer between iPhone to Windows, and iPad to Windows. This product really works and full ill their all promises.
Here are a few advantages that you will gain when you use WinX MediaTrans:
Two-way transfer songs between Windows and iPhone, create music playlist, auto convert music to MP3/AAC. Make iPhone ringtone.
Transfer videos between iDevices and Windows. Auto convert video format and compress video size for Apple.
Backup iPhone photo to PC and vice versa at No. 1 fast speed. Auto convert HEIC photo.
Transfer eBooks/audio books and convert EPUB to PDF, TXT for iPhone, Windows.
Save Words, PDF, Excel files, App and others in your iPhone with encryption.
Sync and manage iPhone files without iTunes limits. No iTunes freeze error, easy to operate.
If you also looking for iTunes alternative then you should give a try and download the free version of Winx MediaTrans and later upgrade it as per your requirement.
Bonus Advantages to Use WinX MediaTrans
Transfer Data Without Any Loss
You can transfer data without any loss of data. It does not send your data by deleting the previously existing data. The previous data still exists – the only thing that happens is that it gets copied to your iOS or Windows device. You can delete the files later. This is handy to those who plan on keeping the older iPhone or iPad.
Smooth Transfer – does not freeze like iTunes
Even if you want to transfer any video with 4K quality, WinX MediaTrans will make it possible for you. It does not freeze like iTunes. WinX MediaTrans allows you to transfer heavy data without wasting much time! So, you have a combo of fast speed and no freeze! There is already an auto convert video format that will compress the video size for Apple!
Customized iPhone Ringtone
Are you a person who wants their customized iPhone ringtone? Well, that is what WinX allows you to do! Now stop using those standard and boring default iPhone ringtones and make your own ringtone.
Transfer Data Without Any Limit
WinX MediaTrans does not have a limit like iTunes and iCloud. You can transfer data without any limits! Even non-iTunes songs without any hassle.
Encryption Facility
You also have an option to store and host files / data with encryption. So, if you have a Word, PDF, Excel file that is confidential, you can encrypt it. You can do it for Apps as well!
Well that's all about the Winx MediaTrans.
WinX MediaTransfer Giveway
So if you looking to get WinX MediaTransfer for free to transfer iPhone data then I want to highlight that the free option is good but it has limited features and if you want to unlock all features then you have to go for full version which now available at discounted price.
You can upgrade to WinX MediaTrans full version with the early bird discount: starting from $25.95, the earlier you buy, the more you save.
So don't wait, this is a chance for you to get the best deal on this software!
However, if you are aiming for a Best Seller offer, you might want to take up the Lifetime License. It generally charges you $59.95. But, in the Holiday Discount, you will get it for $35.95 only*!
You only need to put in a one-time fee – there is no extra billing that needs to be done. You will also get a lifetime free upgrade on the same. The best part is that, at this price, you can use this on two computers!
If you are looking for a lifetime period, but you want it for 3 computers, do not worry! you only have to pay $65.95!
You will get a lifetime free upgrade for all of the 3 computers on this license! Also, as a token, you will get a video converter as a gift!
If you purchase these, you will not encounter any trial limit. You can easily manage your iPhone or iPad freely. Also, you will get a lifetime of free tech support if you take up the paid version!
Remember, this is a limited period offer! So, do not delay it anymore! It is now or never! The earlier you buy, the more you save!