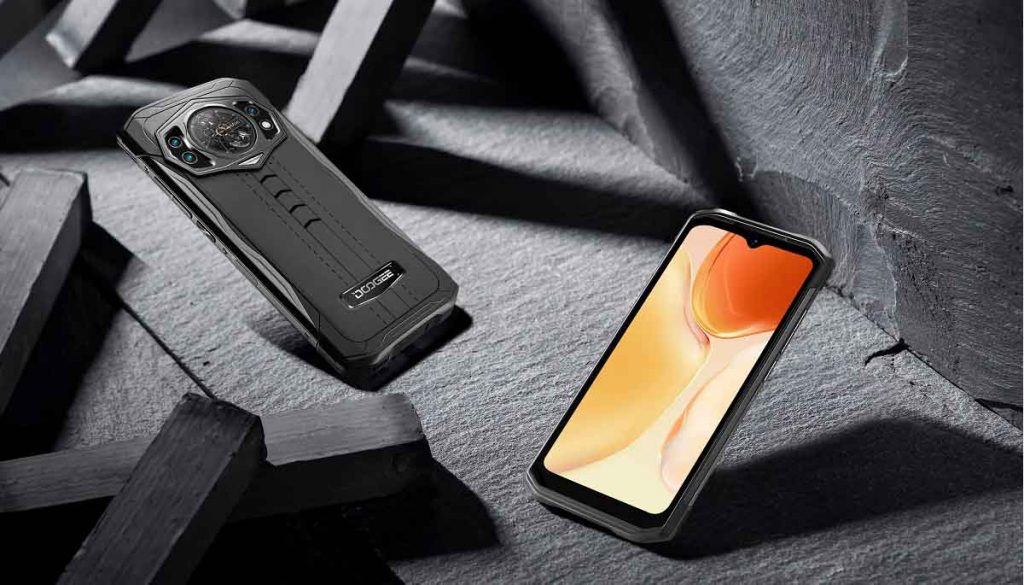 Doogee s98 is dual screen rugged phone that looks attractive and best for playing heavy games like free fire, call of duty, pubg. This phone has potential to click the stunning photos in dark (thanks to SONY® IMX350 Sensor chip) and also record the high quality videos upto 2K @30fps.
Apart from that the back panel design is an eye-catching feature which makes the Doogee S98 special than other brand phone. Even if you compare the backpanel design with Sasmung S23 and recently launched iPhone 15 and Google pixel 8, then you will be shocked to see how smartly the Doogee team has used the back-panel space of S98 smartphone.
Design
On very first attraction with Doogee s98 you will find out that the phone body is sturdy and it will remind you Asus gaming phone ROG 7. The design of this phone is like a gaming phone and the phone looks very strong and sturdy. You can will it while holding the S98 in your hand.
Back Side
When you turn it around, you will definitely appreciate the back panel design as this is what makes it stand out and can convince you to buy it. The back panel of Doogee s98 phone is like a watch dial and around this they have smartly placed the 3 camera of 64MP, 20MP, and 8MP with 2 infrared night vision lights.
Underhood Doogee s98 specifications
Doogee s98 specs is loaded with dual screen,  a powerful mediatek g96 processor, 64MP main camera, 20MP night vision camera, GPS, NFC 5G connectivity, 6000mAh batter and a type-C 33w fast charger to charge the phone.
This is a dual sim phone with dedicated memory card support. Thought the phone comes with UFS 2.2 8GB RAM and 256GB ROM, but still if you feel the inbuilt memory is less than you can expand it via the micro SD card up to the 512GB.
Apart from that, the phone will run Android 12 which you can upgrade to Android 13 and Android 14 using the mobile 5G data or Wi-Fi in less than 1 hour. This will let you to control various functions of mobile and you can use it to change the dial of rear display with pre-installed options.
As mentioned on gsmareana, the s98  is IP68/IP69K certified and weight is around 320 grams, which is bit heavy than newly launched iPhone 15 pro max. So this a drawback which the company should improve in upcoming models!!
Colors
Doogee s98 is available to buy in 2 color options i.e. Doogee s98 Classic Black, Doogee s98 Volcano Oragne, and Doogee s98 Wine Red and it will cost around $499.
So that's all about the Doogee S98!
If you need a phone with watch mount then this is best option in market. You can play games, do daily work, stay connected with others, watch videos and click stunning photos in day and night.
This phone is a complete package and offers best performance in same range models.
If you have more budget than you can also check Doogee S98 alternatives like Doogee S99 or Doogee S100. These new phones are also popular and you can consider while buying.