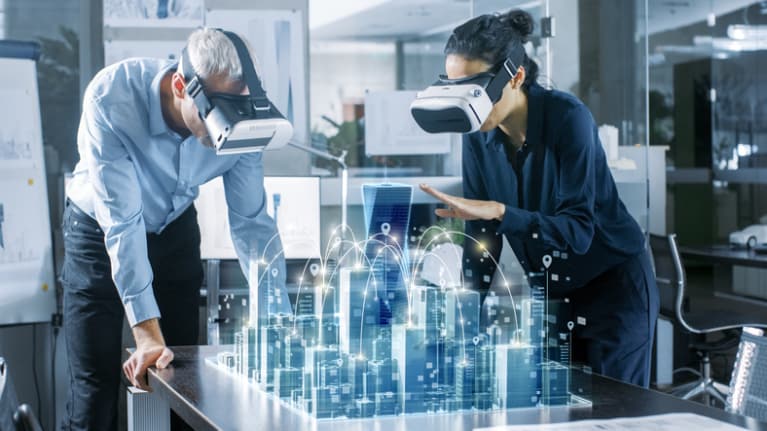 Virtual reality (VR) is set to revolutionize the world of business training as the world adapts to changing working environments during the COVID-19 epidemic. Strong data published by PWR this year supports the ROI of VR training even before the world changed in 2020. VR training will give businesses the ability to sustain a strong and reliable skills base at this critical time in history.
What is VR Training?
VR training is an immersive learning experience that recreates real life settings and simulates work challenges, accessed from any location in the world. It gives employees the chance to gain on-the-job training in a risk-free environment where they can learn by doing – something they are currently unable to practice due to COVID-19.  Retention of skills learned in VR is high, and therefore more likely to be applied in the workplace and ultimately lead to increased productivity. The comprehensive PWC report found that learners were 275% more confident to apply skills learned after training and four times more focused than their e-learning peers. In the last two years, the technology has progressed and VR headsets are more cost effective for training with leading brands  HTC VIVE and Facebook's Oculus Quest.
Remote Working Solutions for Businesses
VR training for existing employees working remotely during COVID will ensure that they are working at the top of their game and communicating effectively with teammates and customers. Tailored VR training programmers allow team members to learn quicker and deeper, leading to increased retention rates and productivity, as well as provide tangible cost savings.
Businesses using VR training during COVID can create safe and inclusive environments connecting remote teams to learn together across the globe. This has significant benefits for teams working in highly skilled and specialized areas especially where team members' actions are interdependent on each other from spacecraft engineering to surgical procedures.
Class room training has been hit the hardest by COVID. For soft skills, interaction with, and reaction to another person is central to the learning process. VR platforms offer a solution to this and offer an opportunity for trainees and trainers to share the same remote space together and interact on everything together from design, healthcare, engineering, and beyond. The remote environment for training is exceptionally effective for the development of skills such as problem-solving, communication, and emotional intelligence. Even before COVID, it has been proved that training no longer requires face-to-face scenarios or classroom-based learning.
Is VR the Future of Training?
Successful businesses are as strong as their workforce and their ability to adapt to change during COVID will ensure they survive and thrive.  Training is key to increased efficiency which in turn can lead to a boost in productivity levels – which is why VR training is the future of training, not just a short stop solution during COVID.