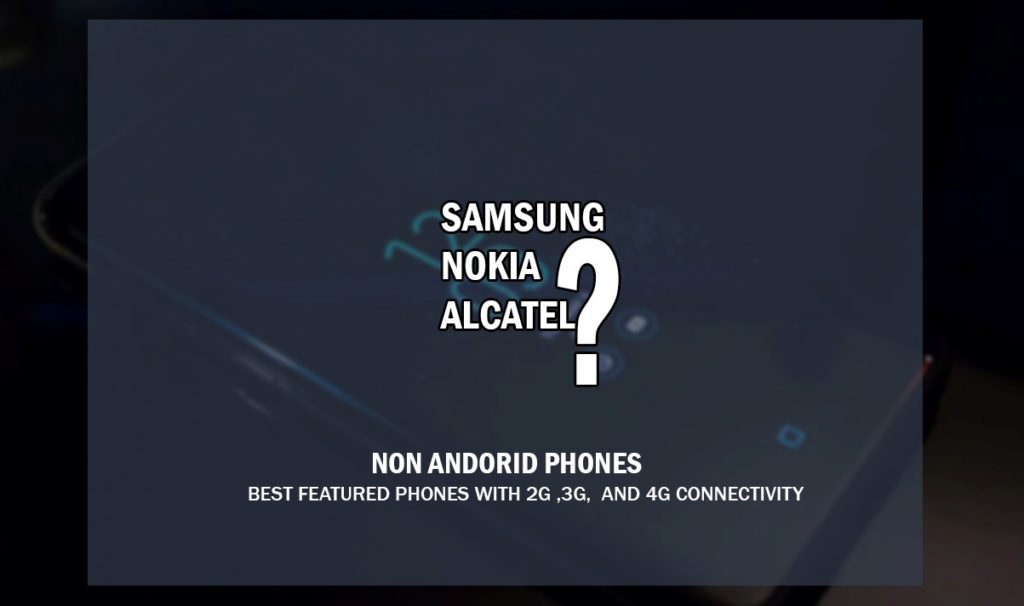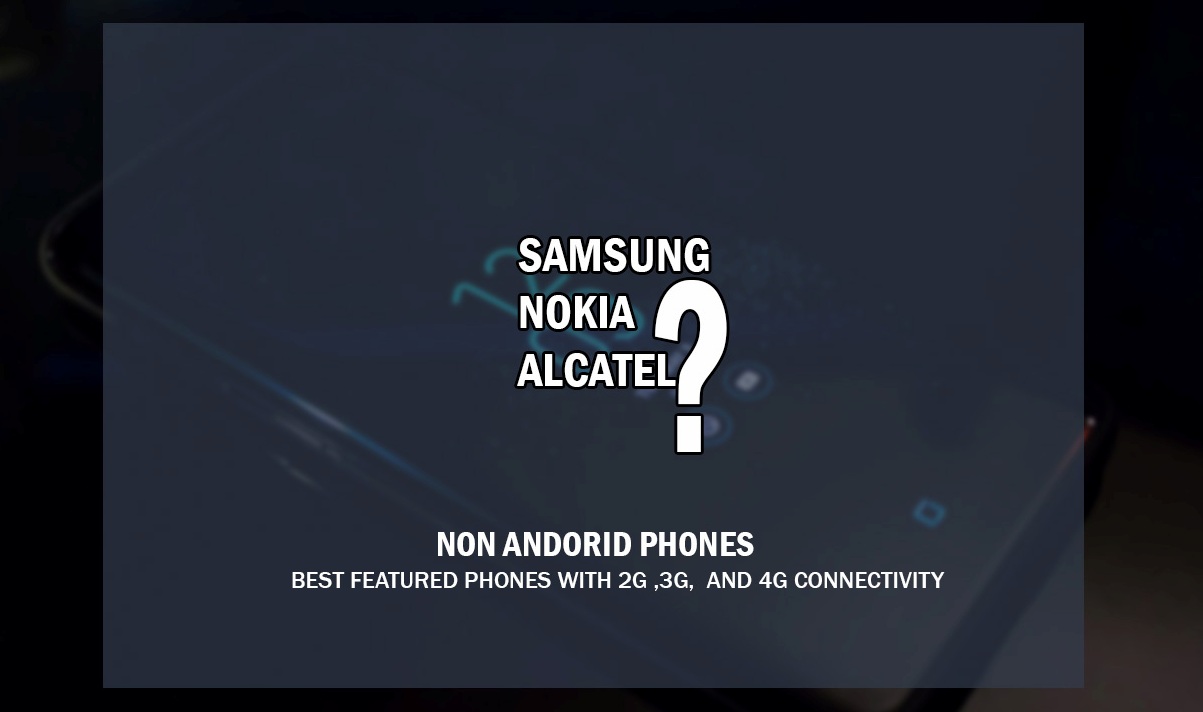 A number of people don't like android phones. So if you have been looking for best non Android phones to full-fill your daily need then checkout the our collections of best featured  and smartphones which comes with 2G, 4G, 4G-VoLTE, and 5G connectivity options in budget range.
We have updated the list with new models so don't skip and read all about the new 2G and 4G non android phone below!
If you have reached that point in life where the constant buzzing of android smartphone has been stressing you out, then it's time for you to do a rethink and look for a non android phone. You can continue to communicate using your basic mobile phone and stay connected with loved ones.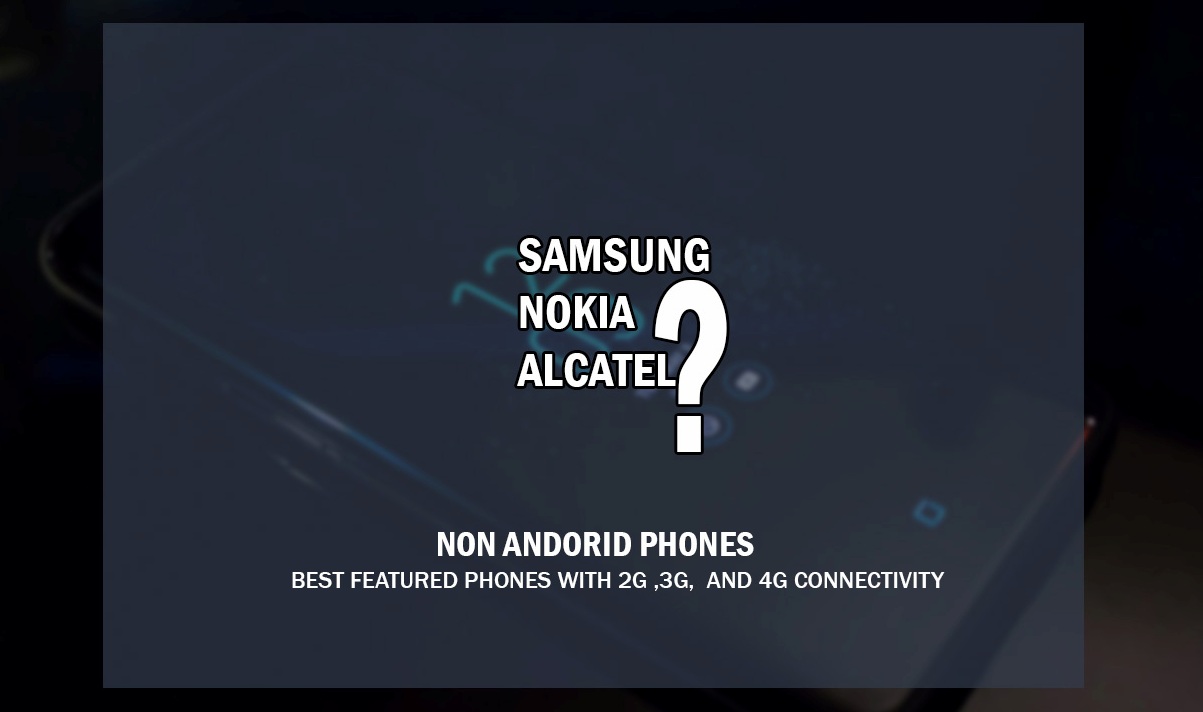 11 Best Non Android Phones from Trusted Brands
In market, at present you can find featured phones that run on Java based operation system, while in smartphone category you can find a lot of phones that run on Android or iOS.
If you're wondering which feature phone to opt for while you reclaim your life, worry not.
We have rounded up some models that tick all the boxes when it comes to affordability, durability, best battery life and a friendly user interface. And unlike smartphones, you don't need to worry about constantly upgrading the software in these phones, which adds to their popularity.
Here are some 11 non Android phones to consider
1. Nokia 3310 Dual SIM 4G

Measuring 115.6 x 51.0 x 12.8 mm and weighing around 79.6 grams, the new Nokia 3310 4G is backed by an original 1200 mAh battery that gives over 22 hours of talk time. The device features a 2.4-inch polarised curved display (240×320 pixels) and is powered by Nokia Series 30+ operating system.
Apart from that you can run 4G and use the 4G services.
To use the 4G on your laptop you can connect Nokia 3310 with USB cable and enable the USB tethering or you can also prefer the Nokia PC suit, install it in system and then connect your mobile to access the internet.
It also offers expandable storage up to 32 GB via microSD card. Other additional features that the phone flaunts are MP3 player, and FM radio onboard.
Available in Dark Blue, Red, Yellow and Grey colour variants, it comes with the classic numeric keypad.
2. Nokia 106 4G

This phone is quite popular in India as it comes with built in supported UPI apps. So those who were purchasing the android phone only to pay money online via the UPI apps, they can do all using the new Nokia 106 4G.
It is available in charcoal color variant, and an upgraded model over Nokia 105.
Nokia 106 4G supports a 1.77 inch QVGA display screen (128 x 128 pixels), and is powered by Series 30+ OS. It weighs 93 grams, the super-lightweight handset has a 4MB RAM, and its 1400 mAh Li Ion battery gives 25 days of standby time.
And if you grew up playing Snake Xenzia, you're in for a treat, as the phone comes preloaded with the game. Other features include FM Radio, inbuilt audio/video support, calculator, and a bu ..
3. Samsung Guru Plus B110E
The dual SIM phone with a 1.5 inch TFT display and 128 x 128 pixels screen resolution weighs only 66 grams. The 800 mAh battery promises longer talk time. Other features include calculator, stopwatch, world clock, calendar, alarm and FM Radio.
You can pick from Blue, White and Black colour options.
4. Nokia 150 Dual SIM
Sporting a 2.4 inch QVGA display screen with a screen resolution of 240 x 320 pixels, the Nokia 150 Dual SIM is powered by Nokia Series 30+ OS. The device comes with a 16 MB RAM, and expandable memory up to 32 GB.
The 1020 mAh battery provides up to 22 hours of talk time. It also features a MP3 player, FM radio and is available in Black and White colour variants.
5. Samsung 1200
Featuring a 1.5 inch screen TFT display with a screen resolution of 128 x 128 pixels, Samsung 1200 is available in White, Blue and Black colour options to choose from.
Weighing only 65 grams, it is fuelled by an 800 mAh Li-Ion removable battery, and promises up to 8 hours 50 minutes of talk time and up to 720 hours of standby on a single charge.
Additional features include torch, alarm, mobile tracker, SOS message service and MP3 ringtone.
6. Nokia 216 Dual SIM
The Nokia 216 features a 2.4 inch QVGA display with 240 x 320 pixels resolution. It runs on Nokia Series 30+ OS and comes with a 16 MB RAM and expandable memory up to 32 GB.
The handset features a VGA camera 0.3MP with an LED flash module on both the front and back. It comes with a 1020 mAh battery that can last up to 18 hours of talk time and up to 19 days on standby.
7. Intex Eco Beats
Featuring a 1.8 inch display screen with the screen resolution of 120 x 160 pixels, Intel Eco Beats is available in Black and Grey colour options.
The Dual SIM feature phone weighs around 69.5 grams and has a 0.3 MP VGA primary camera with LED flash module.
It is supported by an 800 mAh Li Ion battery that provides up to 300 hours of standby time. Other additional features include calculator, stopwatch, calendar, alarm, torch light, mobile tracker and FM Radio with recordin ..
8. Samsung Guru Music 2 B310E
Featuring a 2 inch TFT display with a 240 x 320 pixel screen, the Samsung Guru Music 2 B310E is 12.2 x 8.4 x 7.4 cm in size. Weighing 74.98 grams, it is backed by an 800 mAh battery, and will provide up to 11 hours of talk time.
The dual SIM phone comes with FM radio and Music Player, and is available in White and Black colour options.
9. JioBharat V2 4G VoLTE

This is brand new low price keypad mobile 4g phone from Jio which can be afford by anyone in just 999.  It supports 23 languages and you can pay and receive UPI payment via the JioPay.
It comes with 4 GB internal storage which can be further expanded up to 128 GB. The phone also has a VGA camera on the rear side to capture the memories.
The single SIM JioPhone is powered by a 1000 mAh battery and is only available in Ash Blue and Solo Black. It comes pre-loaded with additional features such as FM Radio, Music and Jio Entertainment.
10. Micromax X805
Micromax X805 touches base with a 2.8 inch TFT display along with a 240 x 320 pixels screen resolution. The feature phone has an ideal dimension of 19.1 x 12 x 1.5 cm and weighs around 140 grams.
The Dual SIM feature phone is outfitted with a 0.3 MP camera, and a built-in RAM of 256 MB. It is powered by a 1,800 mAh Li Ion battery.
The phone also has Bluetooth support and expandable memory upto 8 GB. Other features include calculator, stopwatch, world clock, calendar and alarm!
11. Alcatel Cingular Flip 2 4G
It is a low cost 4G LTE featured non android phone, which comes with Bluetooth and Wi-Fi connectivity features. It is a stylish phone that supports a good quality camera of 2MP.
You can take pictures, record videos, browse internet and listen music on this featured phone without worring anything!
So these are some of the best non Andorid phones which are available in Indian market. You can get the best keypad phone from local market or you can also order online from Amazon.in and get exclusive discount.
If you would like our recommendation which keypad mobile 4g would be best? then we suggest go with Jio or Nokia. Both brands offers good basic keypad phone to users and the after sale service is quite good.
Note: Nokia phone supports all SIM cards like Airtel, Jio, VI, BSNL, MTNL while Jio phones only support Jio SIM. So based on what network coverage is strong in your area buy the phone.
Apart from that, if you don't want to buy a keypad phone and looking for a better option in the smartphones then guys you can only look for iPhone like iPhone SE 2, iPhone 13, iPhone 14 and iPhone 15 which runs on the iOS and offers better connectivity, and user interface to users.
That's all about the non Andorid phones. If you have an query or need any suggestion then please let us know in the comments and don't forget to share it with other on social networking sites!