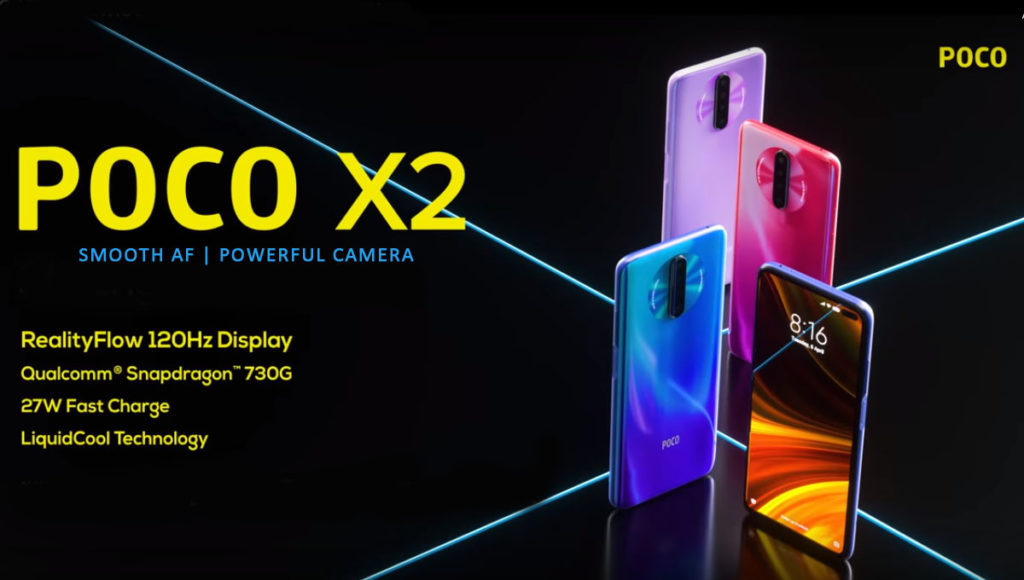 Xiaomi launched the Poco X2 mid-range phone on February 4, 2020. When Xiaomi announced Poco as a separate company and started the flagship phone at a reasonable price, everyone thought, It will be like OnePlus, Where only flagship mobiles on  Poco series.
But, Xiaomi has other plans. They release Mid-Range phones also. But, Poco X2 is not a Low mid-range phone. It has a Snapdragon 730G processor. So, We can say it is Upper Mid-range mobile. Along with this gaming focus processor, this mobile has 120Hz refresh rate Display, Quad camera setup. The Specs are looks mostly like Xiaomi K30 regular version. But, K30 has 5G and 4G versions. Poco X2 has only a 4G version. At this price range of $225, Poco X2 is a considerable Mid-range phone.

When Xiaomi launched the new Poco X2 Phone?
Back in January 2020, they planned to announce the Mid-range X versions. They waited for Qualcomm's new 730G exclusive Gaming processor series announcement. After the official event, Xiaomi announced the new Poco X2 on February 4, 2020. The launch event is only for the Poco X2 mobile. We can expect the flagship mobile soon — the phone available from February 11, 2020, on Flipkart India.
Specifications in Poco X2
Xiaomi not only added a 730G gaming processor as a special feature. They added a lot of things in this new series. I Will list the overall specs first, and then we will go deep into that.
6.67 inch FHD+ 120Hz LCD Punch Hole Gorilla Glass 5 HDR10 Display
Size and Weight- 165.3 x 76.6 x 8.79 mm and 208g
Qualcomm Snapdragon 730G Octa-Core processor.
RAM and Internal memory variants start from 6+64 GB to 8+256 GB. Also Supports External SD card.
64+8+2+2 MP Quad-Rear Camera and 20+2 MP selfie camera setup.
4500 mAh Battery. The 5G version can support 30W fast charging.
Display
When making cost-effective phones, there should be some compromises. Xiaomi launched the Poco X2 with the LCD Display. When we think why LCD, they compromise us with the 120Hz Screen that looks like Samsung S10 Plus like notch for dual front camera setup. If they added AMOLED Display with this refresh rate, Thr price could go further. Xiaomi LCD Displays are not bad. They are better to compare with some poor LED Displays. It comes with Corning Gorilla Glass 5 Support. The display supports HDR10, which is best when gaming and watching movies. So, With a 6.67 inch 120Hz Refresh rate with HDR10, If you play supporting games, the experience will be great.
Processor
Poco X2 comes with a 730G processor. If you don't know about the new 730G processor, Qualcomm announced the new "G" variants in most of the chipsets. It can enhance performance while gaming. They also announced a 765G processor, Which can perform 20% better GPU compare with the regular version. There are a lot of features that are added to the 765G processor. I will mention some essential features.G version has a 730G processor. So, We clearly understand that the Xiaomi goes as much as possible in specs. Because it has a better GPU than regular 730. It will help you when gaming.
730G Processor Specs and Features
Enhanced 4G support with Wi-Fi 6 Ready.
Kryo 470 CPU octa-core and Adreno 618 GPU with 2.2 GHz speed. 8nm Technology.
The "G" variant can provide an extra 15% performance on GPU compare with a regular 730 processor.
4K video support and 192MP photos support.
4K Ultra HD Display support and FHD+ Display support with 120Ghz.
It can support up to 8 GB RAM.
RAM and ROM Variants
Xiaomi always fixes the price based on the RAM and ROM capacity. They will start from the basic version to High-End capacity. Poco X2 announced in three variants. Internal memory is based on UFS 2.1, not 3.0.
8GB +256GB (High-End Version)
Camera
Before going to this, I already covered the Smartphone Camera Terms. If you know what they are, It will be beneficial to understand the camera specs. Both versions have the same camera setup. They come with Quad Camera Setup in Rear and Dual Camera setup in front.
In Rear, Main Camera 64MP Sony IMX686 sensor with f/1.9 Aperture, 1/1.7" sensor, 0.8μm pixels. Additional to this 8MP f/2.2 (For Wide Angle), 2MP f/2.4 (Depth Sensor), and 2MP f/2.4 (Macro shots) are added as other cameras.
In the 4G version, instead of the 5MP Macro lens, they added a 2MP camera lens. Front Camera comes with a 20MP (Main)+2MP (Depth Sensor) setup. The 64MP photo option should be selected from the Camera app. In Default, most of the Xiaomi phones have 24MP.
In terms of videos, Camera can support 4K videos at 30FPS, 1080P at 60FPS. If you use Ultra Wide camera, you can shoot 1080P at 30 FPS. You can take slow-motion videos 1080p at 120 FPS and 720P at 960 FPS.
Other Specs
It comes with the 4500 mAh Battery.
Finger Print sensor added in the side frame. My guess is there may be some issues in adding in the Display fingerprint sensor with 120Hz Screen. So, they decided to put the sensor inside. It is still better than the Rear fingerprint sensor. You can access the sensor without lifting the phone from the table, which comes handy in most of the situations.
Ports- USB Type-C and 3.5mm Headphone Jack.
Pricing
In Tech, everything gets the value based on the price. Xiaomi is always making cost-effective phones.
Variants
6GB +64GB (Base version- $225, INR 15,999)
6GB +128GB (High Memory- $238, INR 16,999)
8GB +256GB (Top Version- $280, INR 19,999)
Which Variant you should buy- 6GB or 8GB RAM?
If you buy a phone, you will use that for at least 2-3 Years. These mobiles are the Upper Mid-Range category. So, they can survive this much duration. If spending $50-100 is not bother you, you should buy the High RAM version. We always pay the amount on unused RAM and ROM.
In real-time usage, you don't need a massive amount of RAM. But, Custom Skin 6 GB RAM and  Stock Android 6 GB RAM makes a lot of difference. Custom Skin mobiles always consume high memory. If you are a regular user, you can stay with 6 GB RAM. But, When you are a frequent gaming person on your mobile, consider buying an 8GB RAM variant.
Wrap up
When all manufacturers Released their Upper mid-range mobiles with the price tag above $300-400, Most of the people are not willing to spend this much on the piece of mobile, which is not going to use by them for a specific period. No 5G technology is a bit of disappointment in this model. They can provide 5G with the help of the Snapdragon 765G processor.
But based on the Poco X2 concept, probably the Poco F2 version may not come with the Flagship processor. They may have the plan to release it with a 765G processor. It is an assumption. Only Xiaomi knows what they are panning. Because this Poco X2 specs and design is more like the Xiaomi K30 series.
Compare with other manufacturers, Xiaomi can provide low-cost mobile phones with the same processor. Because they always Top client for most of the Smartphone internal parts manufacturer. They get a low price because of High-Volume Consumption.
When Xiaomi announced this Poco X2 base version with the price tag of $225, which is under $300, It looks like everyone can use decent gaming phone version mobiles at a reasonable price. Price should not be a barrier to experience the Tech.
Xiaomi did a great job. What are your thoughts? Can Poco X2 get a lot of users? Or You will wait for the Poco F2 5G phone? Comment Below.