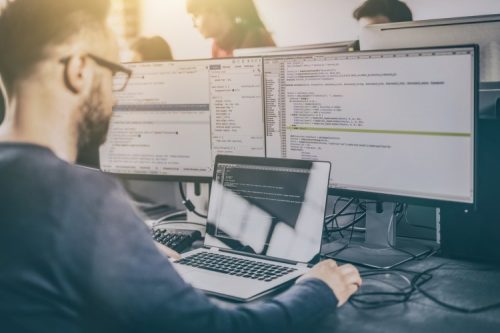 Video games have come a long way since they transcended the "golden era of arcade games" in the 1980s. Amazing advances in game development are making the virtual world brighter, impressing each year with their dynamism, realism, and new possibilities.
Looking back to the beginning of 2021 we can see that the gaming industry did not expect such a boom of video games, but the pandemic made its adjustments. Developers were looking for new technology, corporations were riding the tide of interest in both computer games and themed gambling, which can be found at NationalCasino NZ for example, ratings were rising, and reviews of upcoming games were flying around like hotcakes.
Here are 4 technologies for the development of computer games, which have gained incredible popularity and development in 2021-2022.
1. Neural Networks
Discussions about the use of artificial intelligence in game-making do not cease. With the latest technology and advanced game engines, game creators are experimenting with neural networks and incorporating them into development, making video games more interesting and vivid.
Artificial Intelligence helps to test games before their release, highlighting bugs and bugs in the gameplay.
With facial recognition, neural networks allow the development of video games that adapt to the gamer's emotions. For example, by scanning 78 different points on a person's face, the system can reduce the complexity of the gameplay, if the game screen displays the grimaces of the player.
Neural networks help optimize gameplay. For example, Face-to-Parameter Translation for Game Character Auto-Creation creates a game character based on facial photographs; Generating High-Resolution Fashion Model Images Wearing Custom Outfits generates a character's appearance by processing pictures of clothing.
Artificial Intelligence can make computer games more realistic by collecting information about the style of the user. And depending on the actions of the player, the neural network adapts to him, giving a certain level of complexity of tasks and plot twists.
3D scanning and facial recognition technology allow the system to create an avatar of the user based on your likeness in the game world. That is, you can create a character that looks the same. Isn't that cool!
Neural networks can develop animations in video games: an animation system powered by a neural network that draws information from real movement helps avatars walk, run and jump a little more naturally.
It's a painstaking job for animators working with motion libraries to tie together all kinds of contingencies-what if an avatar raises its bow as it walks down the stairs and crouches? Or does the avatar gets hit while trying to balance on a narrow beam? The possibilities are limitless.
Facebook Reality Labs and researchers at the Max Planck Institute have developed PhysCap, a machine learning algorithm that can perform 3D motion capture. The process of recording human movements traditionally requires special equipment, cameras, and software. However, the neural network algorithm works with any DSLR camera where the capture rate is 25 frames per second.
On May 22, 2020, NVIDIA posted the results of work on a neural network that was able to copy the video game Pac-Man. This proves once again that work on artificial intelligence has not stood still this year, with the same rapidity as the coronavirus, sophistication in technology.
2. VR
Video games aren't just about clicking on a keyboard, they're also about the ability to fully immerse yourself in another reality just by putting on glasses. VR in 2020 has become one of those technologies that have gained traction in computer game development. And for good reason.
According to Statista, global revenue from virtual reality video games will grow to $22.9 billion by the end of 2020.
VR has gained traction among the gaming community in 2020, but it's suddenly caught in a vicious cycle: gamers need more content, and video game development companies need widespread adoption of the game system.
However, developers are already realizing that VR technology is not going to become mainstream, it requires a lot of investment and resources. So, Ubisoft and Electronic Arts, despite the considerable interest in VR, do not plan to use this technology in development.
3. AR
If the virtual world is not your thing, why not try some video games in ours? Not limited to a TV or computer monitor, AR games provide a unique perspective for the gamer. They maneuver spaces within the real world and make the object of the game applicable to real-life situations. For example, play table hockey on the kitchen table from any angle or participate in some puzzles composed of obstacles in the backyard.
Augmented reality must be seen as one of the most exciting technological advances of recent years. And in 2021, the industry continues to grow, earning points and popularity among gamers.
AR is being used with PCs via smartphones, as in the case of Pokémon Go, with VR/AR headsets, future consoles, and with wearable devices like smartwatches or Google Glass.
Augmented reality is an attractive niche for the game development field. Many experts have started working on integrating AR elements into video games.
The use of AR technology in the development of computer games has led to progress in this field in 2020. Where virtual reality has long been advertised as a long-awaited innovation, augmented reality presents more practical applications.
4. Сloud Gaming
In 2000, G-cluster demonstrated cloud gaming technology at E3. The initial offering was a cloud-based Wi-Fi gaming service for handheld devices. OnLive was officially launched in March 2010, and its gaming service began in June with the sale of its OnLive microconsole.
Sony Interactive Entertainment acquired the intellectual property for OnLive, and its assets began to be used as the basis for a cloud-based gaming service within the PlayStation family of products known as PlayStation Now. This was followed by startups from Gaikai in 2012, Nvidia in 2013, Blade in 2017, Electronic Arts in 2018, etc.
More and more people are learning about cloud gaming and moving to the "soft" side of gaming technology. So what is so great about these cloud-based games and why have they become so popular in 2021?
Cloud gameplay gives you direct access to games hosted in the cloud rather than on PCs or consoles.
Instead of creating video game systems that require more powerful hardware, developers are looking to lighten the load with the cloud. Games are no longer limited by storage space, which, by the way, is not the case with disks or consoles.
In addition, users don't have to install and run updates regularly. Eliminating this factor makes cloud-based video games more attractive.
Multiplayer games are evolving, and cloud games are opening up the platform for their development on different services. For example GeForce Now, PlayStation Now, Project xCloud, and Google Stadia.
Already, cloud gaming is gaining popularity because of the opportunities it unlocks. In 10 years, traditional PC and console games will be largely replaced by video games hosted in the cloud.
The year 2020 was the starting point of development, filled with new developments within existing technologies, gradually being introduced into our daily lives and making gameplay easier and more engaging.