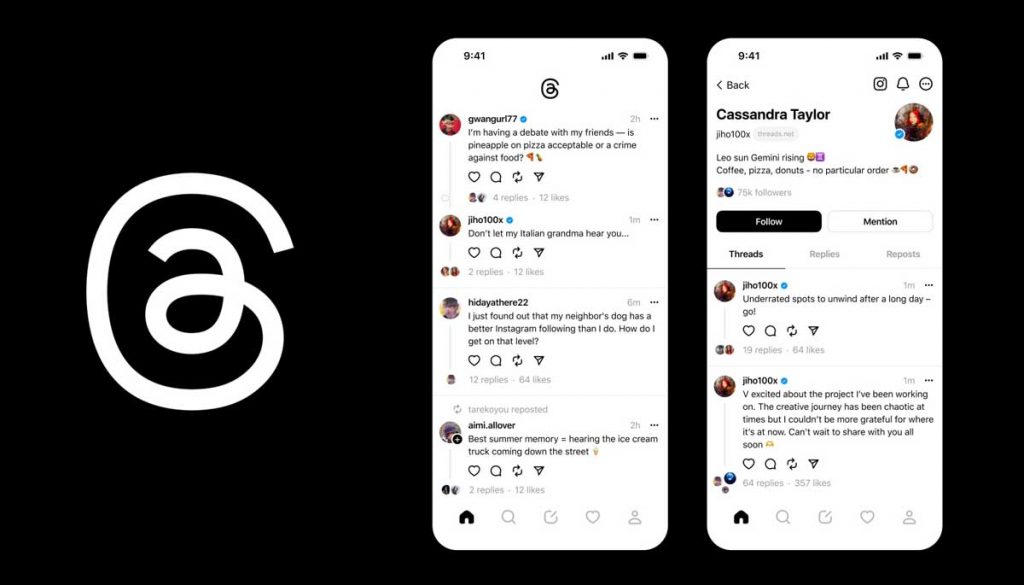 Threads app is a brand new brand-new micro-blogging platform which recently joined by 100 million users in just 5 days. This is quite similar to Twitter app and hence in micro blogging domain it will compete with Twitter.
But what exactly is Threads,  who create Threads app and when did threads launch? Let's get all answers below:
About Threads App
It is a microblogging software similar to Twitter that enables users to participate in public conversations.
While Instagram is simply a video-sharing app like Tiktok and Facebook is a text-based and video-based platform for connecting with loved ones, Threads is a new text-based platform like Twitter where you can like and share words with the public as well as post amusing stuff like memes and gifs.
Celebrities, content producers, and organizations all love Threads.
Since it is available on iOS and Android, you can use it for free on a mobile device to share anything with the public at large or to join public chats.
Who created Threads app
Threads app was created by the Instagram team (a subsidiary of Meta). The same team that created and maintains Instagram, came up with a new concept and created Twitter rival Threads.
All in all this micro-blogging conversational app created under the guidance of Meta's CEO Mark Zuckerberg who created Facebook in February 2004 for social media interaction.
What Threads app launched?
Mark Zuckerberg, the CEO of Meta, announced the release of Threads apps on Facebook and Instagram on July 5, 2023.
Alternatively, the same statement was made on social media by members of the Meta team and staff. After that, users began to download and use it.
Elon Musk, the CEO of Twitter, has been upset since the platform's launch since it is fairly similar to Twitter, offers the blue tick for free, and allows you to publish up to 500 words in a single thread.
What does the Threads app's future hold?
Given that the Instagram team created this app, Instagram threads appear to have a promising future.
Despite becoming a major rival of Twitter, the Instagram team must put in a lot of effort and should focus on developing some fresh, appealing features. In addition, Threads will face competition from Jack Dorsey's Bluesky social network.
Even if this software is free and gives verified and trustworthy users a blue tick without requiring a monthly membership, it still cannot compete with Twitter.
Your feed cannot be viewed in reverse chronological order.
The liked posts section is absent.
Additionally, there is no way to bookmark the conversations.
No support for hashtags.
No hashtag trending feature.
No separate media viewing tab on your profile.
No DM option is available.
If Insta team doesn't enhance it, Threads programs will soon disappear like Google Plus and Orkut since they lack the elements mentioned above that you can get on Twitter.
We are confident that Meta will address this and provide users with a user-friendly and appealing platform.
If you haven't already, get the Threads app from the Apple or Google Play stores right away for nothing, and you can quickly join it via the Instagram app.
Visit https://techliveupdates.com for regular updates, and don't forget to tell your friends about it.
Threads app FAQ
Who is the owner of threads?
Meta owns the threads app but in addition to that A former Facebook employee, Rousseau Kazi is the co-founder and CEO of Threads, a text-based conversation app.
What is thread app?
It is a text based conversation social app like Twitter and BlueKsy. You can download it for free and join it using the Instagram account and then participate in public conversations.
How many people are on threads?
At present, on threads app around 100 million users are available.  The threads user count will soon cross 120 million in few days and it will surpass the mark of 200 million users worldwide in few months.
Is threads available on Android?
Yes this app is available on Android and you can download it for free from the Google app store. In addition to that, you can also get it on iPhone, iPad as it works very well with latest iOS 16 and iOS 17.