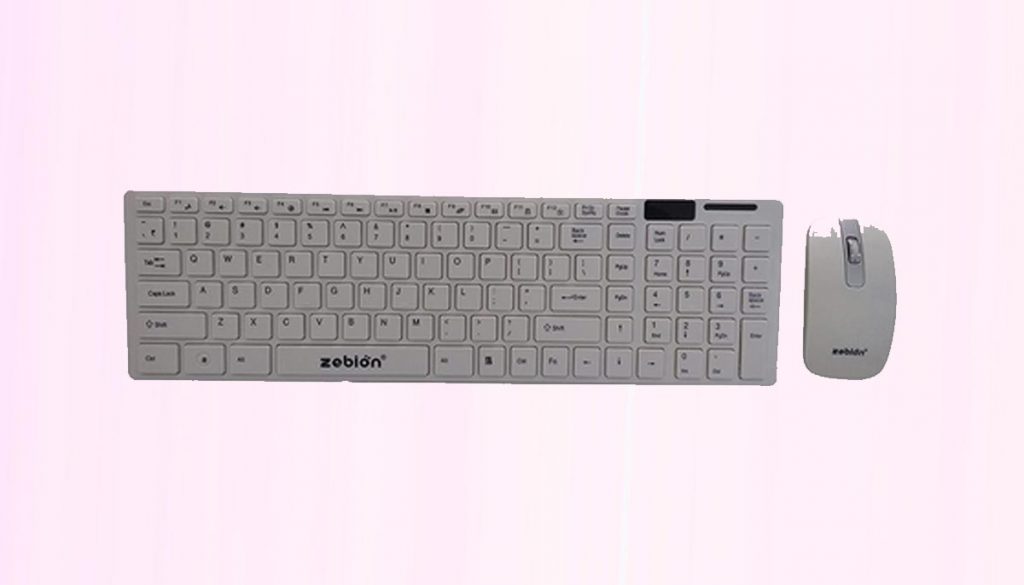 Recently I purchased a wireless Zebion Keyboard for gaming from local computer hardware store under $15. I used it for 2 weeks and here's my review on Zebion Keyboard.
So How's it? How much money I paid for Zebion Keyboard and Should you buy it?
Well guys I will cover all details about the Zebion Keyboard in the following review and let you know the reality and will reveal about the close alternatives which you can consider while buying.
About: Zebion  Brand
Zebion is an Indian brand, deals in Wired/Wireless keyboard, mouse, monitors, web cams, drive casing, cable / connectors, UPS and powerbank.
It's main office in Maharashtra and sell the products all over India via the online platforms like Amazon.
Address:

ZEBION HOUSE

, Plot No. 280 B/7, New Timber Merchant's Society, Ghorpade Peth, Pune, Maharashtra, India – 411042
Email: info@zebion.in
Phone: +91-9623441166
Zebion Keyboard Review:  SlimFit G1600
Zebion sells a number of products and among them one is Keyboard.
Zebion sells wired and wireless keyboard from low budget to high budget. Even those who looking for combos like keyboard with mouse they can also get the best from Zebion and saves money.
I checked a number of models of Zebion Keyboards like:
Combo Bluemoon
Combo Duet
Combo Silver Air
USB K200
USB K300
Wireless Combo Zebion G1800
Wireless Combo Zebion G2000
Wireless Combo Zebion G2200
But finally I purchased Wireless Combo Zebion SlimFit G1600 in White Color in just $10 or somewhere INR 1,000 in local currency.  Yes I bargained with the shopkeeper and finally got the best deal.
And now I have 1 wireless Zebion Keyboard and 1 Wireless Zebion Mouse in my basket.
When I unboxed the Zebian SlimFit G1600, I was taken aback by its design.
The design was amazing and the white color was eye catcher!!
Like other keyboards and mouse combos, this also comes with AAA batteries which you need to insert in mouse and Keyboard. Once done, I connected nano receiver of 2.4Ghz and start using  it.
The connectivity is fast and you can even operate it from a long distance.
As per the official documents the range of wireless connectivity is up to 10 meters. So within this range you can easily stay connected with the PC and do work.
I didn't find any issue in the connectivity.
While playing the games, I got quick response  from keyboard and mouse.
Pros:
Design is quite compact.
Light in weight and easy to handle.
Quick response
Cons:
Material quality looks cheap.
Button strokes  are bit noise.
Brand name on Space bar key looks weird.
Final Veridict

Zebion Keyboard is an affordable keyboard which you can easily get from the local or online stores in Just $10.
Though the price of Zebion Keyboard is quite low, you shouldn't look for the premium features. As it is brand that offers affordable products to users, you should expect that the quality will be somewhere compromised to cover the product cost and profit.
If you looking for temporary solution, then must go for  Zebion Keyboard and mouse combo, otherwise there are plenty of other brands are available that offer better quality and design.
If you can add a little bit more in your budget, you can buy ZEBRONICS Zeb-Companion 500. This is also available in the white color and will cost you INR 150 extra than the Zebian SlimFit G1600.
Now the choice is in your hand!
Have you ever tried the Zebion Keyboard? Please let us know in the comments and don't forget to share it with others.